Latest News & Announcements
---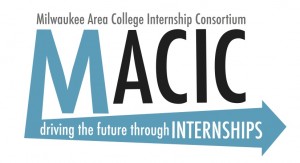 HELP MACIC DESIGN A VISION FOR OUR FUTURE
With increased emphasis on internships and other career experiences at the college level, we want to make sure MACIC is positioned to support students, colleges and the community in the coming years.
Joe Poeschl, Program Director for The Commons, will facilitate a series of hands-on exercises throughout the morning that have are designed to get us up and moving, working with one another and co-creating the strategic vision for MACIC.
Parking is available and lunch will be provided.
---
Please consider joining us for this FREE event on Friday, December 8th

J.W. Speaker Corporation
N120 W19434 Freistadt Rd
Germantown, WI 53022

Join us for a showcase to learn about three programs that are creating new pathways to career experiences for Wisconsin students!
AGENDA
8:30 AM – Networking & Light Breakfast: Coffee with the Colleges
9:00 AM – Welcome
9:10 AM – New Berlin, Linden Grove & WCTC
9:35 AM – The Commons
9:55 AM – M3 (M-cubed)
10:20 AM – Break
10:30 AM – Roundtable Discussion
11:20 AM – Wrap Up!
FEATURED GUESTS

The Commons
The Commons are a bold collaboration between 24 southeast Wisconsin colleges and universities, our local business community and the region's entrepreneurs. The program blends startup ventures with corporate innovation and layers on 350+ mentoring professionals to give students a unique, real-world experience. The Commons has recently developed workshops for high school audiences.
M3 (M-cubed)
Seeking to transform the future of Milwaukee through education, M3 collaborates, coordinates, and partners with MPS, MATC and UWM, to increase retention and graduation rates, and the career success of our students.
New Berlin School District, Linden Grove, & The WCTC Nursing Assistant Initiative
Through providing traditional coursework in Health Science and Health Care Occupations, students can complete a Certified Nursing Assistant course and sit for the state exam, on-site. They complete their clinical experience at Linden Grove and earn high school and WCTC academic credit.
Space is limited
Please RSVP by Dec. 1, 2017: macic-dec-program-2017.eventbrite.com
---
MACIC supports professionals and faculty who work with internships in Wisconsin accredited post-secondary educational institutions through education forums and networking opportunities. There are no membership dues to participate, and membership is established through a formal declaration by each member institution. Members are expected to show active participation in the organization, which may include attendance at at least one meeting per year, representation on a committee, hosting a meeting, or holding elective office. To learn more, visit our "JOIN" page.

To declare your institution membership please fill out the  Membership Declaration and return to Kathleen Folbrecht by September 21, 2017. We only need one form per institution.
---
MACIC has  officially set its meeting dates for the 2017-2018 academic year.  Times and dates for these events are listed below.  Our first business meeting will be held on Friday, September 29, 2017 from 8:30am-11:00am at Alverno College, 3400 S 43rd St, Milwaukee, WI in Founder's Hall 148. Park in Lot F (free) or there is free street parking available on 39th Street. Register Here
Coffee with the Colleges Networking  will begin at 8:30am and meetings will start at 9:00am.  Most meetings will conclude by 11:00 am.
Friday, September 29th, 2017 – Business Meeting at Alverno College, 3400 S. 43rd St., Milwaukee. 
REGISTER by 9/26/17!! 
Friday, December 8, 2017 – Professional Development, Location TBD
Friday, February 9, 2018 – Business meeting, Location TBD
Friday, May 11, 2018 – Professional Development, Location TBD
We are excited about the upcoming year and hope you will join us.  If you have any questions, please contact us. 
---
Thanks to everyone who joined us during the 2016-17 school year. Highlights from the year include:
MACIC's first Internship Student Showcase featuring student projects from: MSOE, UWM, WCTC, Alverno, Cardinal Stritch and UW-Waukesha
A lively panel discussion featuring current student interns talking about "lessons learned" from their internship experience
Dr. Timothy Strait, Coordinator, WI Internship Initiative at Department of Workforce Development provided updates on Wisconsin legislation and activities related to internship development.
A panel presentation on the topic of "Serving Non-Traditional Students" with speakers representing UWM Student Success Center, WI Dept. of Veterans Affair, a local employer and a non-traditional student intern.
Annual MACIC Outstanding Employer Internship Awards recognizing: Batteries Plus and Children's Hospital Of Wisconsin Clinical Navigation Program.
We hope you will join us in 2017-18!
---
Please join us for an Internship Student Showcase and Panel Discussion at the 13th Annual Celebrate Internships! Employer Appreciation Event 2017 hosted by Milwaukee Area Technical College
A FREE networking & professional development opportunity for area employers and college internship professionals
When: Friday, May 12, 2017, 8:00 – 11:00 a.m.
Where: Milwaukee Area Technical College- Oak Creek Campus
A Building Auditorium, 6665 Howell Ave, Oak Creek ,WI 53154
Agenda:
8:00 – 8:30 a.m.      Check in & Coffee with the Colleges (includes a Continental Breakfast)
8:30 – 9:00 a.m.      Internship Showcase of Area Student Internship Projects
9:00 a.m.                 Welcome, Dr. Mark Felsheim, PhD, VP MATC – Oak Creek Campus
9:05 a.m.                  MACIC Outstanding Internships Award Presentation
9:15 – 9:45 a.m.      WI Dept. of Workforce Development – Internship Legislation and the DWD Initiative, Timothy R. Strait, PhD, Coordinator, Wisconsin Internship Initiative- Wisconsin Department of Workforce Development
9:45 – 10:00 a.m.   Break
10:00 – 11:00 a.m. Meet the Interns-Panel Discussion
11:00 a.m.             Closing Remarks- Lynda Busack, MACIC President
Register by May 5, 2017
MACIC Member Institutions: Look for an email from Dana Dorf from UW-Waukesha regarding how you can showcase your best and brightest interns at our Internship Showcase! We will be asking you to identify one or two students who could represent your institution and share their internship experience with a display table and informational materials.
Questions?  Contact Julie Walker at walkerjs@uwm.edu or 414-229-5596
or Lynda Busack at lnicely@wctc.edu or 262-695-7806
---
Read More News & Announcements