Latest News & Announcements
---
Please join MACIC for the 11th Annual "Celebrate Internships!" Employer Appreciation Event- this year in a new format and time!
WI Labor Law Review & Coffee with the Colleges
May 15, 2015 from 8:15 a.m.-10:30 a.m.
UW-Waukesha- Commons Center, Room 101
Event Agenda:
8:15 a.m.-9:15 a.m. – Coffee with the Colleges (Hot Breakfast will be served!!)
9:15 a.m.-9:P30 a.m.- Message from MACIC President and Annual Employer Award Presentation
9:30 a.m.-10:30 a.m.- Feature Presentation from Jim Chiolino, WI Department of Workforce Development
Coffee with the Colleges- An extended networking opportunity for employers and individuals from member institutions to network and talk all thing internships! For the May event, an enhanced Coffee with the Colleges will be offered to include hot breakfast.You don't want to miss this!
Jim Chiolino from the Wage and Hours Division of the Wisconsin Department of Workforce Development will be presenting the latest updates on the State of WI Labor Laws on such topics as:
Fair Employment
FMLA
Labor Standards
Fair Wages
Time for Q & A will be provided

Please RSVP by Friday, May 8, 2015
Questions? E-mail leadership@macic.org
"Celebrate Internships!" is an excellent opportunity for employers and college/university representatives to network in the name of internships. We look forward to seeing you there!
---
MACIC Members-
Join us for our next Business Meeting to discuss our new Employer Social format, give input on the event, and learn about the Paid V. Unpaid Internships Event coming up in May.
Date/Time
February 13, 2014
8:30 a.m. – Networking
9:00-11:00 a.m. – Business Meeting
Location
Cardinal Stritch University – Milwaukee Campus
Room J114 in the Campus Center
6801 N Yates Road
Milwaukee, WI 53217
Please register by Thursday, February 12.
---
Each year MACIC recognizes an organization that is dedicated to internships by engaging with colleges and universities, offering a structured internship program that provides its intern(s) with work of a professional nature and valuable feedback, and provides opportunities for its intern(s) to grow professionally. MACIC awarded IndependenceFirst with its Outstanding Employer Internship Program award at the annual Employer Appreciation Event in June 2014.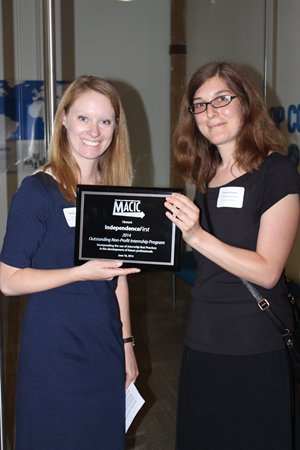 Melanie Hupfer (right), Fund Development and PR/Marketing Coordinator with IndependenceFirst, accepting the 2014 Outstanding Employer Internship Program from Megan Anderson, representative from nominating institution, Alverno College.
Congratulations IndependenceFirst!
---
MACIC awarded two deserving organizations with the Outstanding Employer Internship Program award at the annual Employer Appreciation Event in June 2013.
Jockey International, Inc. received the Outstanding Internship Program award as a large employer. IMPACT 2-1-1 received the award as a nonprofit.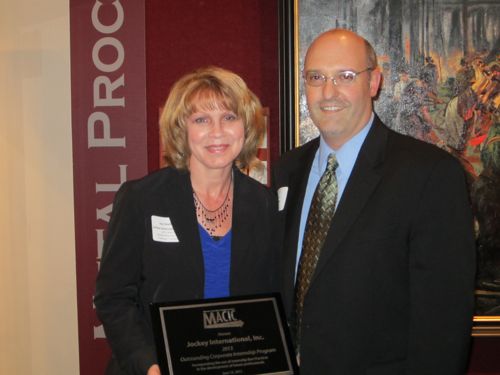 Sue Mattner, Corporate HR Coordinator with Jockey International, Inc., accepting the 2013 Outstanding Employer Internship Program from Jason Pruitt, representative from nominating institution, Carthage College.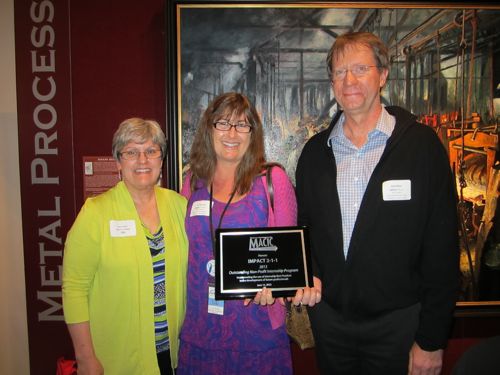 Sue Leister of nominating institution Alverno College presents IMPACT 2-1-1 representatives Lori Boesel, Intern & Volunteer Program Coordinator, and Bob Waite, Program Director, with the 2013 Outstanding Employer Internship Program award.
Congratulations to the awardees!
---
Kohl's was awarded the 2012 Outstanding Employer Internship Program award at the June 2012 Celebrate Internships Employer Appreciation Social.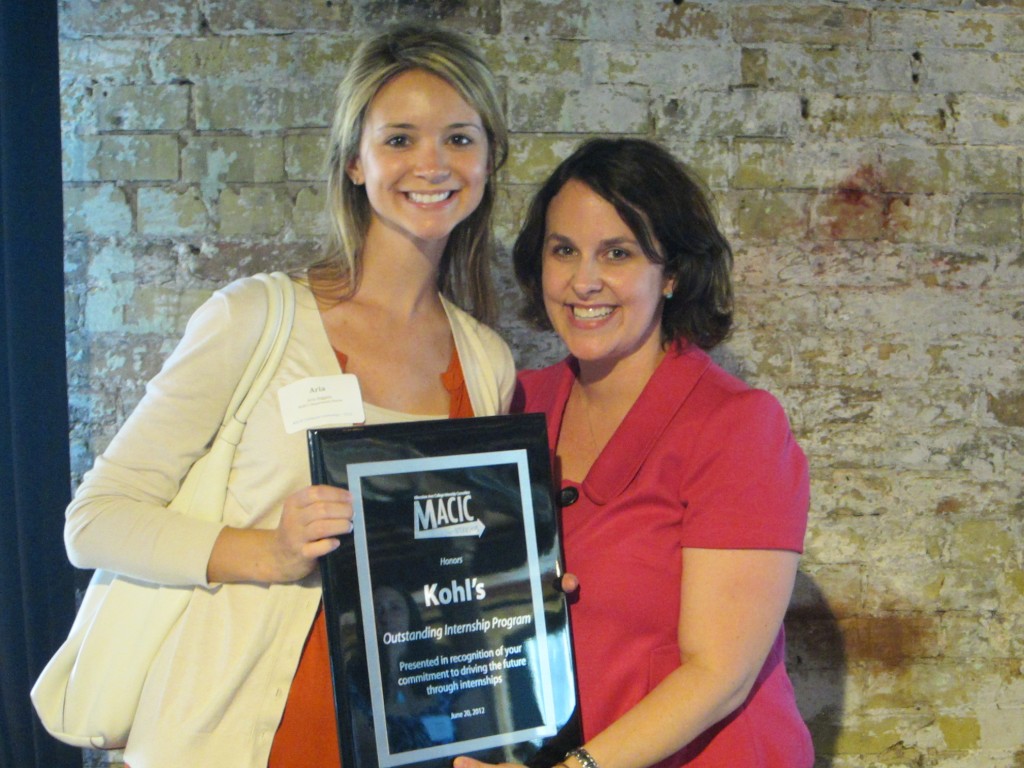 Aria Higgins, University Relations Coordinator with Kohl's, accepting the 2012 Outstanding Employer Internship Program award from Kristin Adler, representative from nominating institution, Marquette University Career Services Center.
Kohl's offers a complete internship program that allows students to have hands-on experience in the retail industry. Internships are available in a wide range of disciplines including accounting/finance, compliance, e-commerce, information services, learning and development, logistics, management, marketing, merchandise analysis, and purchasing. Kohl's strives to develop students into professionals with a strong skill set and knowledge base.
Kohl's interns are provided with sufficient training and go through a strong orientation process. All interns complete a day-long orientation filled with Kohl's history, an introduction to corporate culture, and expectations of interns that are specifically designed to enhance internship success. Well-defined, measurable goals are established with interns, and most departments have a curriculum and training guide for interns that provides a clear understanding of what is expected of them during their time with Kohl's.
Kohl's intern managers provide constructive feedback and mentoring to interns. Each intern is also assigned an Intern Coach, a recent college graduate who meets regularly with their mentee to provide training and guidance. Interns also participate in three "College to Career" classes, where they learn about corporate communication, presentations, speaking on the spot, and other skills necessary to be successful in the corporate world.
Interns have many opportunities to demonstrate their learning through projects in their departments, but all interns also participate in a Final Impact Project. Interns select a problem and present their proposed solutions at the end of the internship. This final presentation is not only given to their team and manager, but to upper level management in their department. Almost all of the solutions get put into place for the next season or cycle after the interns complete their experiences.
Given Kohl's strong focus on community involvement, the company developed "Interns in Action," a day of service for all interns (200 Corporate Interns + 425 Store Interns). Interns can participate in a variety of "getting to know Milwaukee" activities, all designed to encourage networking. Ultimately, Kohl's interns are integrated into the company as if they were permanent members of the team.
According to nominating institution, Marquette University Career Services Center, Kohl's is one of Marquette University's most engaged employers. Kohl's participates in on-campus career fairs, and representatives from the company are always willing to speak to students in classes, programs, and student organization meetings. They participate on advisory boards, are willing to provide informational interviews, and post internship opportunities on university/college job boards.
Congratulations to Kohl's for providing an amazing internship program for college students!
In an effort to honor employers and partners from business, industry, government and other nonprofits, MACIC developed the Outstanding Internship Program award. It recognizes organizations who have distinguished themselves by developing quality internship programs. The award criteria include:
University Engagement
Structured Internship Experience
Professional Development Opportunities
MACIC members submit nominations, and the MACIC Awards Committee selects the winner or winners. In any given year, as many as three Outstanding Internship Program awards may be given – Large Employers, Small Employers (fewer than 100 employees), and Nonprofit/Public Sector.
Want to see more images from the 2012 Celebrate Internships social? Visit the photo gallery.
---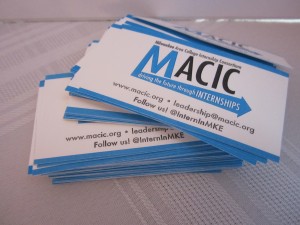 Thank you to everyone who came out for the 2012 Celebrate Internships Employer Appreciation Social!
We had a record number of company and organization representatives in attendance. We hope many great connections were made to benefit students seeking internships in the Milwaukee area.
Special thank you to the sponsoring colleges and universities. This annual event could not happen without your support.
Alverno College
Bryant & Stratton College
Cardinal Stritch University
Carthage College
Marquette University
Milwaukee Institute of Art & Design (MIAD)
Milwaukee School of Engineering (MSOE)
UW-La Crosse
UW-Madison
UW-Milwaukee
UW-Parkside
UW-Stout
UW-Waukesha
UW-Whitewater
Waukesha County Technical College (WCTC)
More coverage of the event will come in the next few weeks.
In the meantime, employers who attended the event should check out Employer Resources for information on creating internships and internship best practices.
---
Read More News & Announcements