Latest News & Announcements
---
Join us for our first meeting of the 2018-2019 year on Friday, October 5, 2018. These meetings allow colleges and universities to connect and share best internship practices. We'll also discuss outcomes of our Summer Visioning Workshop and upcoming MACIC Professional Development events.
Date: Friday, October 5, 2018
Time: 8:30 am – 11:00 am
Where: UWM Innovation Campus-Accelerator Building, 1225 Discovery Parkway, Wauwatosa, WI 53226 – First Floor Conference Room
Please RSVP by Tuesday, October 2, 2018.
Agenda:
8:30am- 9:00 am- Coffee with the Colleges-Networking with light breakfast
9:00 am- 11:00 am- Business Meeting including Hot Topic Roundtable Discussions and Breakout Sessions
PARKING INFO: There is ample parking at the Accelerator Building.
---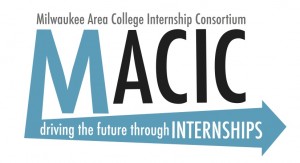 HELP MACIC DESIGN A VISION FOR OUR FUTURE
With increased emphasis on internships and other career experiences at the college level, we want to make sure MACIC is positioned to support students, colleges and the community in the coming years.
Joe Poeschl, Program Director for The Commons, will facilitate a series of hands-on exercises throughout the morning that have are designed to get us up and moving, working with one another and co-creating the strategic vision for MACIC.
Parking is available and lunch will be provided.
---
Please consider joining us for this FREE event on Friday, December 8th

J.W. Speaker Corporation
N120 W19434 Freistadt Rd
Germantown, WI 53022

Join us for a showcase to learn about three programs that are creating new pathways to career experiences for Wisconsin students!
AGENDA
8:30 AM – Networking & Light Breakfast: Coffee with the Colleges
9:00 AM – Welcome
9:10 AM – New Berlin, Linden Grove & WCTC
9:35 AM – The Commons
9:55 AM – M3 (M-cubed)
10:20 AM – Break
10:30 AM – Roundtable Discussion
11:20 AM – Wrap Up!
FEATURED GUESTS

The Commons
The Commons are a bold collaboration between 24 southeast Wisconsin colleges and universities, our local business community and the region's entrepreneurs. The program blends startup ventures with corporate innovation and layers on 350+ mentoring professionals to give students a unique, real-world experience. The Commons has recently developed workshops for high school audiences.
M3 (M-cubed)
Seeking to transform the future of Milwaukee through education, M3 collaborates, coordinates, and partners with MPS, MATC and UWM, to increase retention and graduation rates, and the career success of our students.
New Berlin School District, Linden Grove, & The WCTC Nursing Assistant Initiative
Through providing traditional coursework in Health Science and Health Care Occupations, students can complete a Certified Nursing Assistant course and sit for the state exam, on-site. They complete their clinical experience at Linden Grove and earn high school and WCTC academic credit.
Space is limited
Please RSVP by Dec. 1, 2017: macic-dec-program-2017.eventbrite.com
---
Read More News & Announcements